In a hurry? Check out these quick voter tools to make sure your vote counts on November 3, 2020.
DATE OF ELECTION: NOVEMBER 3, 2020
VOTER REGISTRATION DEADLINE: OCTOBER 5, 2020 - register to vote or update your voter registration by this date
Update your voter registration online
Look up your voter registration status here
New voters who need to register
Voter registration instructions
County Boards of Elections Contact Information
Voter registration for overseas voters
VOTE ABSENTEE/BY MAIL: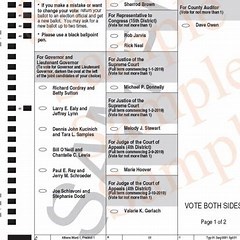 ABSENTEE BALLOT STATUS LOOKUP:
Through each board of elections website, absentee voters in the county must be permitted to identify the status of their absentee ballot from the date of application to the date the ballot was accepted for counting. Specifically, each board website must provide the voter with the following information:
The date the voter's absentee application was approved;
The date the voter's approved absentee application was processed by the board of elections (i.e., the date the board of elections mailed the ballot or otherwise issued it);
The date the voter's voted absentee ballot was received by the board of elections; and
The date the voter's voted absentee ballot was accepted for counting (or, if not accepted for counting, the reason it was determined to be ineligible for counting and the deadline by which the voter may correct any deficiency).
This search functionality must be available to voters beginning at least the 46th day before an election through the 35th day after that same election.
Safe at Home is an address confidentiality program that allows victims of domestic violence, stalking, human trafficking, rape, or sexual battery to apply for a substitute address designated by the SOS to serve as the victim's address to shield his/her actual residential, school, or work address from public records including voter registration lists. The program also serves members of a victim's household. When someone enrolls in Safe at Home, they are assigned a substitute P.O. Box address to use in place of their actual address and can vote in this way while staying protected. See more here.
OTHER VOTING ISSUES:
WHO IS ELIGIBLE TO VOTE IN OHIO?
You are qualified to register to vote in Ohio if you meet all the following requirements:
You are a citizen of the United States;Í
You will be at least 18 years old on or before the day of the next general election. (If you will be 18 on or before the general election, you may vote in the primary election to nominate candidates, but you cannot vote on issues or party central committees until you are 18);
You will be a resident of Ohio for at least 30 days immediately before the election in which you want to vote;
You are not incarcerated (in prison or jail) for a felony conviction under the laws of this state, another state, or the United States;
You have not been declared incompetent for voting purposes by a probate court; and
You have not been permanently disenfranchised for violating the election laws.
You are eligible to vote in elections held in your voting precinct 30 days after you are duly registered to vote in this state. You may request an absentee ballot during that 30 day period.
MAY I VOTE IF I HAVE BEEN CONVICTED OF A CRIME?
A person currently serving time in jail or prison for a felony conviction can neither register to vote nor vote. Additionally, a person who has twice been convicted of a criminal violation of Ohio's elections laws is permanently barred from voting in Ohio.
An otherwise qualified person convicted of a misdemeanor may vote, even if in jail, and an otherwise qualified person who had been convicted of a felony may register and vote while on probation or parole, or after completing his or her jail or prison sentence.
The voter registration of a person who is incarcerated on a felony conviction is required to be cancelled; once that person has completed his or her jail or prison sentence, or is on probation, parole or community control, he or she must re-register to vote by the registration deadline before voting.