JUDGE JENNIFER BRUNNER
FOR JUSTICE OF THE OHIO SUPREME COURT
Welcome to Judge Jennifer Brunner's campaign website. Judge Jennifer Brunner is a candidate for the Ohio Supreme Court in 2020. Currently, she is one of 8 elected judges of the Ohio Tenth District Court of Appeals. She was elected in November 2014 to an unexpired term, besting a Governor's appointee, and was reelected without opposition in 2016 to a full, 6-year term. We look forward to your involvement with our campaign activities to elect Judge Jennifer Brunner as our next justice of the Ohio Supreme Court.
News
Tuesday, October 15, 2019 9:26 AM
By Nancy Molnar
The Times-Reporter

By Staff Reporter
Posted Oct 14, 2019 at 10:04 PM
Updated at 5:42 AM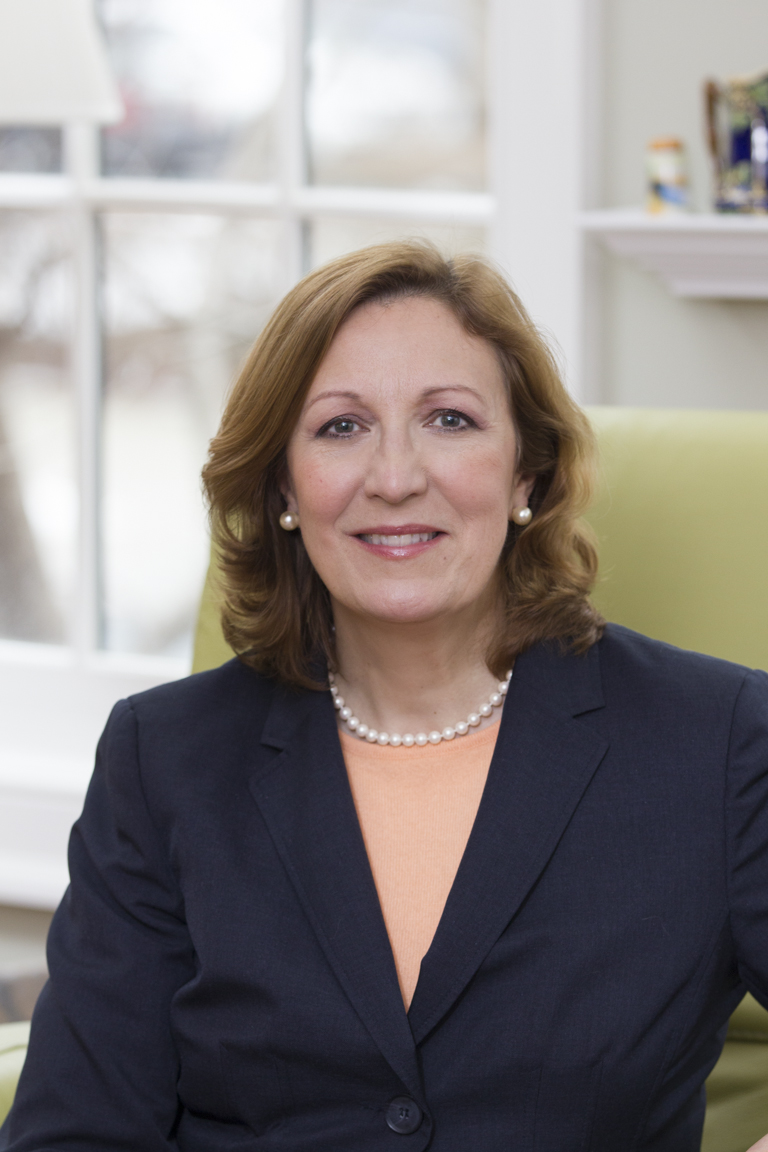 NEW PHILADELPHIA - Former Ohio Secretary of State Jennifer Brunner appeared here Monday night to promote her candidacy for the Ohio Supreme Court in 2020.
Brunner, the first woman to serve as the state's chief elections official, was the keynote speaker for the fall dinner of the Tuscarawas County Democratic Party.
She touched on the drawing of legislative districts that will follow next year's federal census.
"The federal courts have said, U.S. Supreme Court has said, no more dealing with gerrymandering," Brunner said. "Ohio passed a change to the way that we draw the districts. This is really sort of the groundwork for how we elect the people to whom we hand off the ability to govern us.
"Wouldn't it be great if we could just make sure it gets done right? Not a Democratic way. Not a Republican way. But a way where we do it right so that people have confidence in our democracy and our government."
---
Tuesday, October 15, 2019 9:25 AM
Democratic Ohio Supreme Court candidates Judges Jennifer Brunner and John O'Donnell speak at the ODP annual state dinner
Monday, 14 October 2019 21:47 - Kathy
By Kathy Wray Coleman, editor-in-chief

CLEVELANDURBANNEWS.COM - COLUMBUS, Ohio - Ohio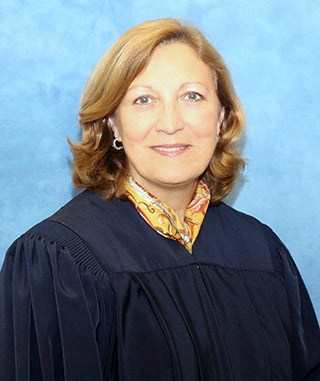 Democratic Supreme Court 2020 judicial candidates Jennifer Brunner, a Ohio 10th District Appellate Court judge and former Democratic Ohio secretary of state, and Cuyahoga County Court of Common Pleas Judge John O'Donnell, spoke front and center at the annual Ohio Democratic Party state dinner Sunday evening Oct. 15 at the Convention Center in greater Columbus, Democratic Party Chairman Tom Perez and five Democratic candidates for president also speaking, among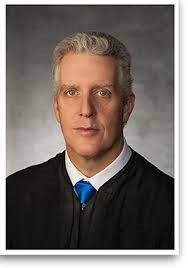 others, including ODP Chairman David Pepper and ODP Vice-chairwoman Rhine McLin, who is Black and a former Dayton mayor.

There are two seats up for grabs next year on the Ohio Supreme Court.

"So goes Ohio, so goes the nation," said Brunner during her state dinner speech Sunday, a speech that highlighted the work of the late Rev. Dr Martin Luther King Jr. and the Civil Rights Act of 1964. "Twenty-twenty depends on us."

The likable Judge Brunner said Democracy is fragile and "only as good and true as what the people believe it to be," the Ohio Supreme Court poised to take on issues from voting and reproductive rights to eminent domain cases, death penalty matters, and congressional gerrymandering.
Both Brunner and O'Donnell asked the audience to support them in their bids next year for the Ohio Supreme Court, a policy-making court with only one Black, Democratic Justice Melody Stewart, a former 8th District Court of Appeals judge the first Black and first Black female elected to the Ohio Supreme Court, Stewart last year winning one of the two seats on the court that are now held by Democrats, along with former Cuyahoga County Court of common Pleas judge Michael Donnelly.
---
Tuesday, October 15, 2019 9:12 AM
Multi-county fundraiser featured speeches from Ohio Democratic candidates and party chair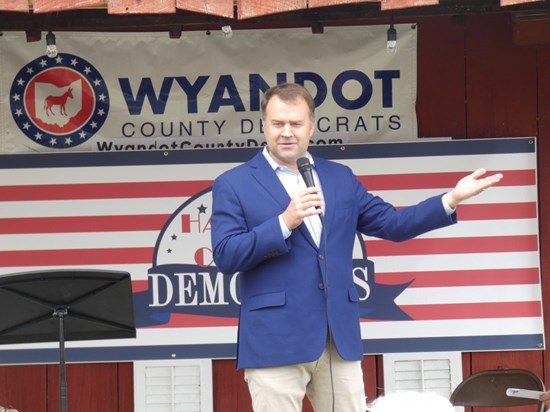 David Pepper, Ohio Democratic Party chair, offers Democratic strategy at the Wyandot County Democrats' multi-county Oktoberfest fundraiser.
SEP 30, 2019
BRET NYE
Staff Writer
bnye@advertiser-tribune.com
NEVADA — Wyandot County Democratic Party hosted a multi-county Oktoberfest fundraiser at White Shutter Winery & Brewery, 3794 C-56, Nevada, that included residents from Wyandot, Seneca, Crawford and Hancock counties Saturday afternoon.
Jennifer Brunner, judge on Ohio's 10th District Court of Appeals and former Ohio Secretary of State, and Ohio Democratic Party chair David Pepper took to a stage and spoke about Brunner's recently announced campaign for an Ohio Supreme Court seat and general election strategy for local and state Democratic parties.
Brunner, who is challenging Republican Ohio Supreme Court Justice Judi French for her seat in 2020, said her focus as a judge has always been on rule of law.
"And I'm happy to be in the judiciary," Brunner said, "where we can check the legislative and executive branches of government."
Brunner said she wants to "make people's lives better" and make it to all 88 counties in the state by next year during her campaign.
"That's what I hope to do," she said.
Ohio Democratic Party chair David Pepper gave some remarks after Brunner. He told Brunner that "whoever gets the Democratic nod (for the 2020 presidential campaign) will be lucky to have you here in Ohio."
"This election is about the generations that follow," Pepper said. Addressing the audience of Democratic voters, he said that the "good news" is that "we can do it right here in Ohio: there's no reason in the world we can't go blue a year from now in November 2020."
For full article, click here.
---
Tuesday, October 15, 2019 9:06 AM
Brunner to speak before Gallia democrats
Staff Report

GALLIPOLIS — Gallia Democrats will be hosting their fall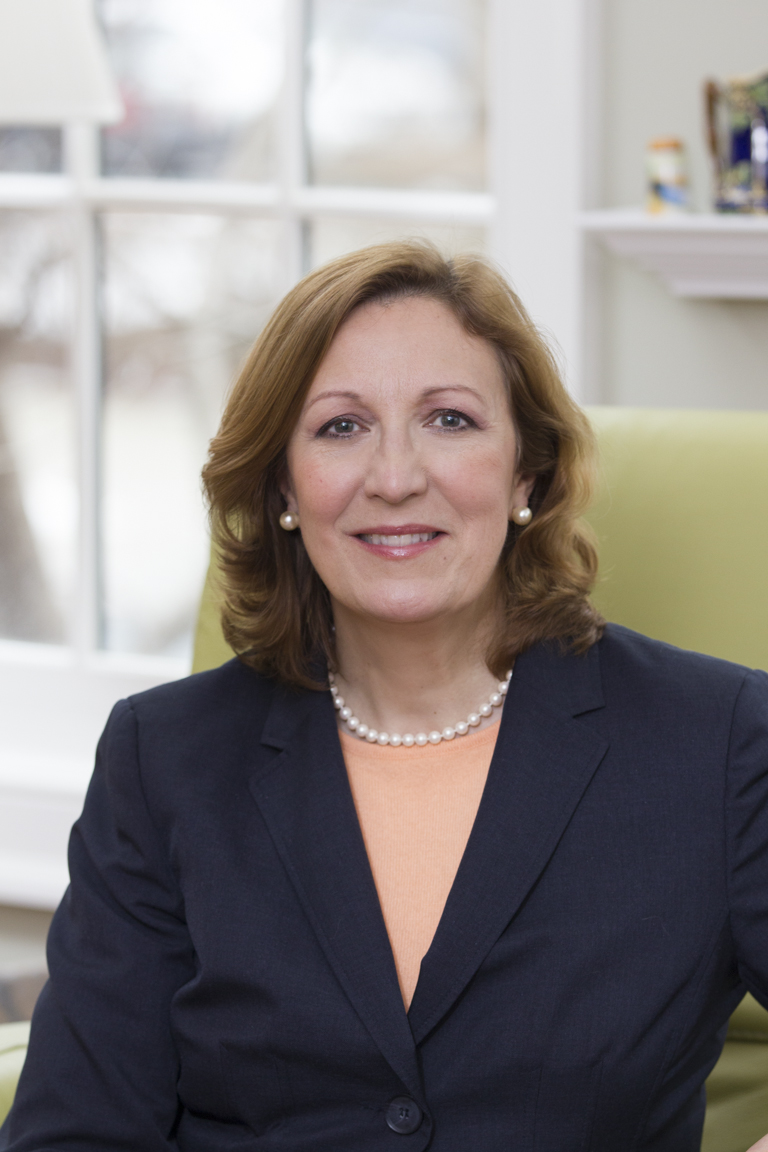 dinner at the Gallipolis AMVETS building Oct. 21 where Ohio Tenth District Court of Appeals Judge Jennifer Brunner is anticipated to speak before visitors.
The event is open to the public and free with contributions taken at the door for those who wish to contribute.
Judge Jennifer Brunner serves as one of eight state appeals court judges of the Tenth District Court of Appeals located in Franklin County. She previously served in elective office as a Common Pleas Judge (2000-2005) and Ohio Secretary of State (2007-2011).
In 2008, she received the bipartisan John F. Kennedy Profile in Courage Award for her public service. In 2010, Brunner was a candidate for the United States Senate. Previously, she was a principal at Brunner Quinn just prior to being elected to her current judicial position in 2014 and reelected in 2016.
Having founded her law firm in 1988, Brunner holds 17 years private law practice experience as well as state government experience in the Ohio Senate and the Secretary of State's office as a staff attorney. Brunner has assisted foreign governments with rule of law and self-governance matters, including anti-corruption and judicial reform consulting in the Republic of Serbia, election observation in the Arab Republic of Egypt and providing legal training in the Socialist Republic of Sri Lanka.
Brunner has been married since 1978 to attorney Rick Brunner, who grew up in Columbiana County. They have three adult children and five grandchildren. Born in Springfield, she has spent her formative and adult years in Columbus, graduating from Columbus public schools, from college at Miami University of Ohio, cum laude, and from law school at Capital University Law School with honors.
Brunner has traveled extensively to destinations in Asia, Africa, Central America, Europe and North America. She is the author of a memoir entitled "Cupcakes and Courage" about growing up in Ohio, her experiences in public life and her 2010 U.S. Senate campaign. She loves dogs and cats, art, reading and music and paints in encaustic medium.
Brunner is running for a seat on the Ohio Supreme Court.
---
Friday, September 27, 2019 11:58 PM
Tuscarawas County Democratic Party to host former secretary of state
The Tuscarawas County Democratic Party will host former Ohio Secretary of State Jennifer Brunner as its keynote speaker at its for its fall dinner Oct. 14 at The Venue, 126 Front St. SW, New Philadelphia.
Cocktails will be served at 5 p.m., and dinner will be served at 6 p.m. Brunner currently is a judge on the Ohio 10th District Court of Appeals. She received the bi-partisan President John F. Kennedy Profiles in Courage Award in 2008 for her public service. In 2010, she was a candidate for the U.S. Senate. She won election to her current judicial position in 2014 and is a candidate for the Ohio Supreme Court in 2020. Prior to being elected to public office, she spent 17 years in private law practice.
Ticket cost: $40. For reservations by Oct. 7: 330-343-9942.
SUBMITTED BY TUSCARAWAS COUNTY DEMOCRATIC PARTY